In today's rapidly evolving digital landscape, businesses seek reliable and visionary partners to navigate the complexities of the Internet of Things (IoT) and digital transformation. BaseN, founded in December 2001, is a trailblazing Software-as-a-Service (SaaS) and Platform-as-a-Service (PaaS) provider that has been at the forefront of digital innovation since its inception. With our cutting-edge BaseN Platform, we offer a fully distributed, secure, and scalable real-time monitoring and control platform for ICT, Machine-to-Machine (M2M), IoT, and Digital Twins.  
Embodying Reliability and Visionary Leadership
We at BaseN have earned a reputation as a reliable and pioneering digital platform provider. For over two decades, we have continuously evolved our platform, adapting to the ever-changing demands of the digital era. Businesses worldwide place their trust in BaseN to capture, store, process, analyze, visualize, and control vast amounts of data and things in real time. Our visionary approach empowers next-generation digital businesses to optimize processes, enhance customer experiences, and improve overall performance.  
Key Features Driving Digital Transformation
 At the core of our offering lie our powerful platform features that drive digital transformation: 
Root Cause Analysis: Define, Analyze, Solve
Our end-to-end monitoring provides high-quality insights, including root cause analysis, which expedites fault recovery. The platform ensures high fault tolerance by monitoring each target device through two separate data collectors. With customizable thresholds, we help businesses combine relevant data types into alarms and events, offering meaningful information for efficient issue resolution. 
Predictive Analytics: Transforming Data into Future Insights
Embracing Machine Learning and capacity planning, our predictive analysis accurately foresees future outcomes based on historical data. Organizations gain the power to reliably forecast trends and behaviors, empowering them to make well-informed decisions days or even years ahead. BaseN Platform's predictive analysis has already proven instrumental in optimizing network management on a global scale. 
Traffic Analysis: Comprehensive Real-Time Performance Overview
We provide extensive support for traffic analysis across various technologies and network equipment vendors. Businesses can optimize networks by gaining a holistic view of bandwidth usage and traffic patterns. This comprehensive real-time performance overview allows organizations to streamline their network operations effectively.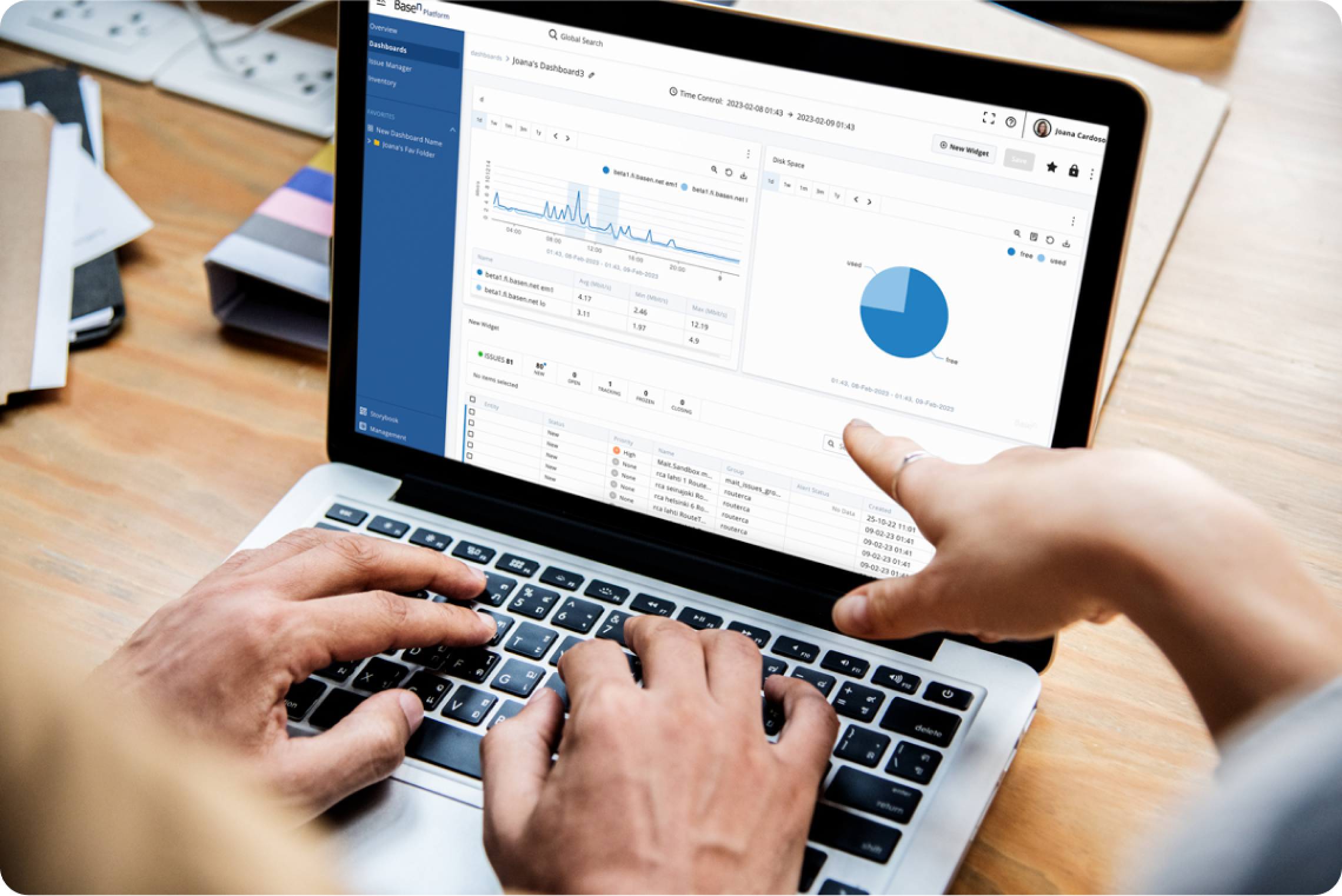 Pioneering Use Cases in the Digital Landscape
BaseN Platform finds application in diverse use cases, driving transformation in multiple industries: 
Distributed ICT Networks
Telecom and ICT customers rely on BaseN Platform for real-time insights into their infrastructure's status, ensuring transparent operations and informed decision-making. 
Distributed Industrial Assets
Optimize asset performance with BaseN Platform by collecting and analyzing crucial data about product, machinery, and equipment health and performance. Contextualize equipment data to gain a holistic understanding of its operational status, enabling better configuration and performance optimization. 
Distributed Site Management
BaseN Platform enhances safety and efficiency for the site operators with real-time situational awareness, monitoring individuals and assets to optimize flows and address potential issues promptly. 
Distributed Public Infrastructure
BaseN's digital twin technology empowers infrastructure operators to optimize asset utilization, minimizing disruptions and enhancing service availability for public infrastructure operators, e.g. those operating a network of EV chargers. 
Embrace the Future of Digital Transformation
on
BaseN
In the digital transformation era, BaseN stands as a pioneer in IoT and digital twins. Our visionary leadership, combined with our reliable and scalable BaseN Platform, empowers businesses worldwide to unlock their full potential. Trust us to navigate the complexities of the digital landscape, and join the league of innovative leaders driving change in the world of technology. On BaseN, you can feel confident in your digital transformation journey and gain the tools to revolutionize how you operate and deliver value to your customers.