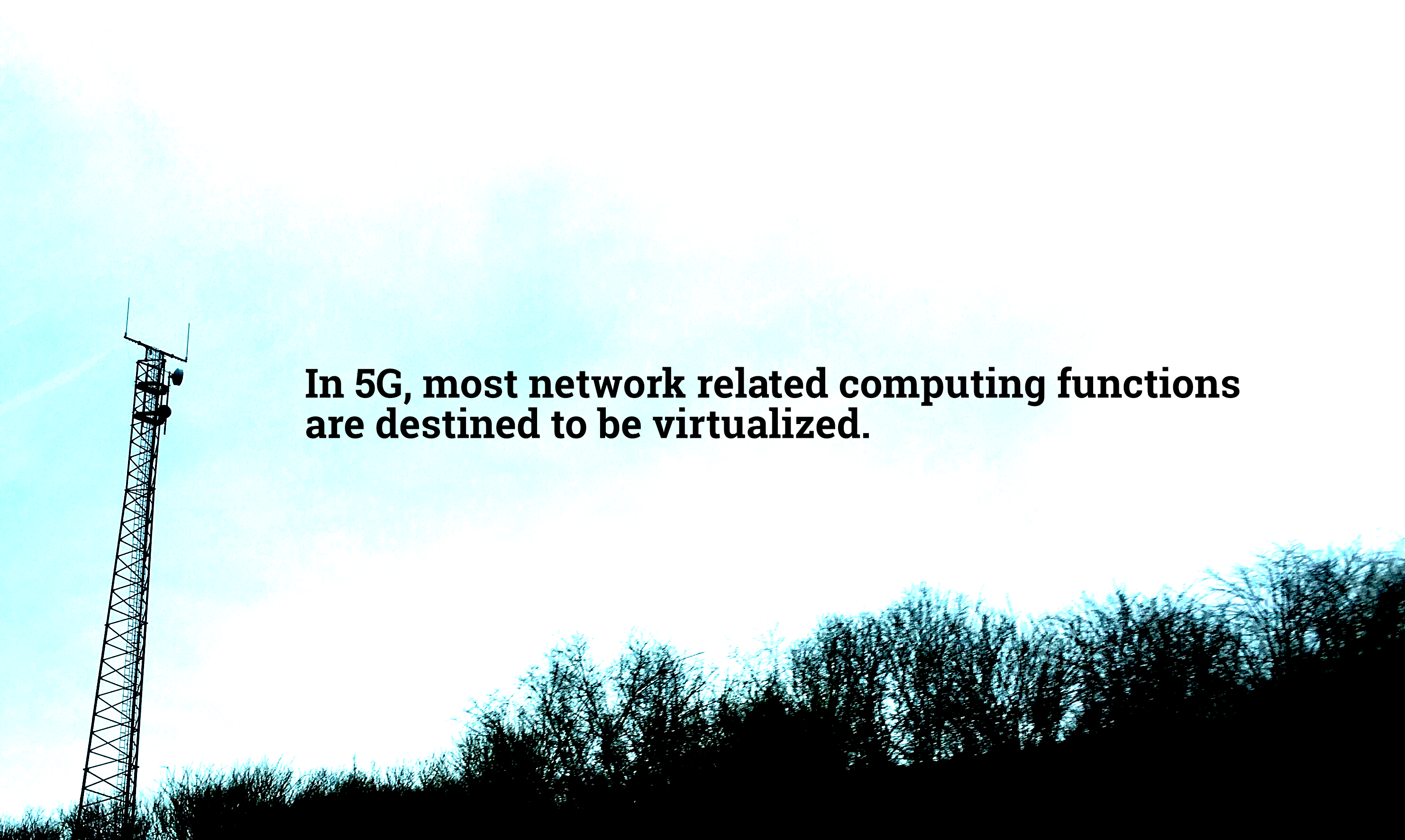 Network equipment vendors and telecom operators alike are now painting futuristic visions on how their soon-to-be-deployed 5G networks will transform our cities, healthcare, mobility, manufacturing and many other areas. While the 3 to 4G migration is still ongoing in many places, shareholders and telecom executives bet on a paradigm change, once more created by their beloved industry. (They didn't invent the Internet though, but reaped a lot of benefits). Then there's the booming cyber security fraction, propping up their best skills on selling fear of the new complexity and omnipresent connectivity.
5G architecture has many advantages over the charging-and-billing -oriented predecessors, including low latency and fast protocol drop-off at or near the base station. Furthermore, most of the network functions such as subscriber registers and messaging services are neatly virtualized and run on a large virtualization platform utilizing common off-the-shelf servers and network equipment. Boldest operators talk about Edge Computing and dream of having enterprise customers share this computing environment as easily as they now subscribe to Amazon, Microsoft and Alibaba services.
As I was privileged to be part of initial GSM piloting in the early 90s, I recognize that the user (payer) side of this story is quite familiar. In 1992, many telcos were courting large enterprises to build private GSMs for their factories; train and taxi companies were touted as new a customer base and e.g. elderly care was high on the list of applications for mobile connectivity.
However in the 1990s, it was the boom of ordinary consumer phone and short message services which eventually created the success story. All grand schemes for societal change, including smart cities, smart healthcare and industrial applications were put on a backburner and sometimes even sold to industrial conglomerates as non-core business.
Now with 5G, will everything be different? Only due to higher bandwidth, lower latency and operator's internal efficiency, will we see groundbreaking industrial and societal changes, as promised last time? Now with a vengeance?
The problem is that the consumer now has the Internet, apps and some 100Mbit/s connectivity with 4G already. It is hard to envision a similar consumer explosion, so the original (4th?) industrial revolution might be the only viable source of truly new revenue. This is first and foremost a financial problem for the current telecom industry.
The said revolution will surely be supported by reliable connectivity, low latency and some form of edge computing, but I'm confident that the real drivers will be companies rapidly transforming their physical products into hybrid digital services, which enable continuous product and service improvement and massively improved resource efficiency due to recycling and circular economy.
These companies need new kind of trusted service providers; digital asset managers or governors, who painstakingly ensure that the customer's data and intellectual property are protected from any form of espionage and theft, be it geopolitical, criminal or something in between. With the recent Huawei debacle, we have seen only the opening shots of the new Battle of Digital.
Regulation will, as we've seen with GDPR, help to some extent, but it is certainly not enough. Telecom operators do have at least regional chances to prove they're worth this trust, and 5G could be the bandwagon to get there. But it does require new kind of thinking which is still hard to come by.
//Pasi