Focus on the Full Lifecycle of a Building
INCREASED IMPORTANCE OF THE END USERS/RESIDENTS, THEIR INTERACTIONS WITH THE BUILDING AND ITS SURROUNDINGS, AND THEIR WELLBEING
Manage & Control 
Entire Construction 
Sites with BaseN
REAL-TIME SITUATIONAL AWARENESS
Shortcuts Select what is your main area of interest:
With a unified Internet of Things (IoT) platform like BaseN Platform, all involved stakeholders of construction projects and ready buildings throughout their lifecycle easily obtain the right insights for their specific needs. BaseN Platform collects, stores, analyzes, visualizes, and controls data from any device, sensor or RFID tag. BaseN Platform also easily integrates with other existing service providers (broad API support) to enhance data correlation and analysis capabilities. BaseN Platform can also be the umbrella platform to unify all data streams from various data lakes involved in the full lifecycle of a commercial or residential building.

Construct
Connect your entire construction site to ensure employee safety and track all your assets. This will guarantee that the right people have access to your site and will allow you to locate each employee in case of an emergency. Tracking your equipment speeds up processes and protects you from theft.
Know the status of all ongoing processes on your construction site to save time and money due to cost-efficient project planning.
Connect

Connect all the elements on your construction site and your buildings. Ensure that there is enough capacity to handle millions of data transactions per second as the number of connected things is constantly growing.
Operation and use
Make it easy for tenants to use shared spaces by always keeping them in good shape through real-time information about your buildings' status. This also enables effective recycling of water and energy when the building itself features renewable energy sources such as solar panels on the roof. This also results in money and resource saving for the residents.
Renovation
With all connected elements in your building, the renovation costs will be reduced tremendously. Connecting these to BaseN Platform enables the prediction of user patterns and will also alert you if abnormal behavior is detected. This allows you to see a small malfunction in a water pipe or an electricity line before any greater damage is caused.
Manufacturing building products
Since your digital twin lives on BaseN Platform, you will be able to easily improve used products and materials as you can extract usage data in real-time and historically. This results in more durable, repairable and recyclable products.
One platform for the entire built environment ecosystem
Drowning in the ever-growing data lakes on construction sites? An agile approach to the data lake development can help you to establish a data friendly culture on BaseN on the fly.
Business and IT leaders alike are in a phase of being overwhelmed by the extreme volume and variety of the incoming data and struggle to turn the knowledge into meaningful sustainable information. The pressure to expand data management and find a platform that is designed to store, process and analyze structured and unstructured data is business critical.
By hosting your data lake on BaseN, you will get a unified overview of all processes that take place at your constructions site. The flow of raw materials and the current construction process are just one click away. Employee safety is increasing as you will always know where your employees are, and you can assure that no one else can access your work site.
You will receive a digital twin of your site immediately which allows for precise forecasting and capacity planning and results in immense cost savings. With your digital twin in place, you further ensure to have the entire digital ecosystem in place as data is of utmost importance – also when the construction is finished. Your digital twin will continuously send data, store and visualize it, and enable you to optimize processes further in the future, while you cater to all your end customers' needs by maximizing their wellbeing through value-adding services such as build-in smart meters that send real-time information to tenants on their resource consumption. You will also be able to prevent issues through predictive maintenance.

BaseN enables effortless monitoring of the entire work site, ranging from people to tools and other equipment. Gain insight into when and how long workers are on site, what areas they are working in, where expensive equipment is placed, and be notified when unauthorized persons enter the construction site. With these insights, BaseN's customers in construction projects get to optimize their operations efficiently and improve their return on investments and overall cost-control.  
Multiple construction sites can also be seen from the same web portal, allowing you to track process at a glance at various locations.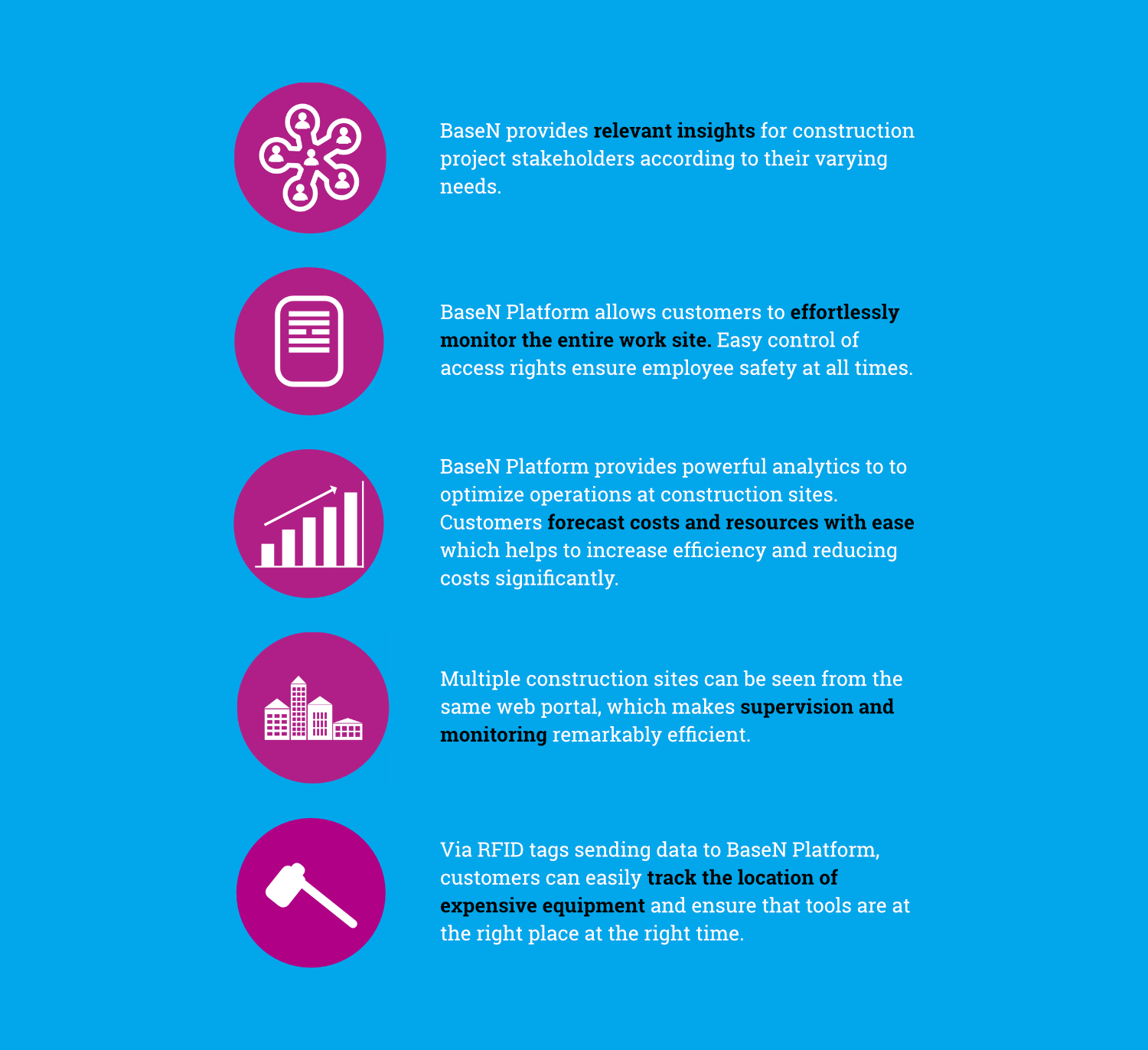 Manage your entire smart building's lifecycle on BaseN – whether you are building a new house from scratch or you are retrofitting it. With BaseN Platform you can host millions of digital twins of your buildings without ever losing the data. The real-time information allows for quick detection of different malfunctions such as a leaking water pipe which makes the tenants' life more comfortable and secure. All services can be taken under monitoring and control to ensure a steady environment for all tenants. For example, EV charging, elevators or lights to name only a few critical components.
By hosting also the electric systems on our platform, tenants can easily use the HOME /AWAY functionality remotely – allowing a more sustainable lifestyle by turning off all appliances at once with the push of a button. As you can also monitor individual sockets on top, it also removes the headache of tenants – "Did I really switch off the coffee machine before leaving for holidays?" is a question they won't need to ask themselves in the future. They simply ca check the status of their appliances on their mobile phone and apply the necessary changes. Further, real-time information on resource consumption encourages tenants to live a more sustainable life.
BaseN Platform's flexibility allows for easy integration of SCADA systems, KNX, any kind of sensors and devices. Adding and removing physical components can be done on the fly while never losing data.  

The amount of newly built zero energy houses is increasing as they help to reduce a city's carbon footprint. With BaseN Platform as the foundation, a warranty of zero energy consumption can be easily given to the end users – the house's tenants.
From a technical perspective the monitoring of one zero energy single family house takes well over 200 data input sources such as A/C units, heating, water, electricity sockets, lighting or solar panels. All data input is combined with a unified view for the end customer. Heat pumps and balanced ventilation units need proper settings and maintenance. Small but necessary adjustments may occur at any time; hence BaseN Platform is the platform of choice, operating at a 24/7/365 model and being able to easily scale to millions of houses.
BaseN also enables large energy savings in residential buildings by bringing real-time consumption information to each tenant. A study has shown that more than 20% of energy savings were possible once tenants were aware of their usage patterns. For a commercial building, this equals the annual salary of one person. Naturally, the environment greatly benefits from energy savings, but also tenants and utilities reported better user experiences. With BaseN Platform allowing to see the energy pricing forecast, tenants can schedule energy dense activities such as running the dishwasher to a later time in the evening, resulting in cost savings. The energy utilities in return can plan the capacity better and create better user experiences by being able to cater for all customers' needs.

At BaseN we value our customers and do our best to offer flawless experiences. Since our customers often serve millions of end-users, we are always developing new tools that make our customers stand out. While enabling our customers to build sustainable houses we also help them to engage with their customers. Through BaseN Platform's granular monitoring of all elements of a smart home, end-users can see at a glance their real-time resource consumption such as water and energy. With this information at hand, residents can easily reduce their carbon footprint and save money.
The gamification and social interaction factor allows tenants to even compete in a joyful way with each other to increase their resource efficiency. The wellbeing of the residents is also further increased by measuring temperature, humidity and anything else defined by the tenant. The platform then adjusts automatically to fit the residents' preferences.
Interested in running your construction business on BaseN?
Get in touch: